Few social organizations can boast a membership as ass-kickingly entertaining as the legendary Friars Club.  I've been involved with the Friars since 2007, that's a 103 years after it first opened its doors in New York City, and though drawn to the impeccable pedigree of members involved in the entertainment industry, it didn't take long to discover that the organization offered more than networking opportunities with A-listers, agents and producers, or the soda-through-the-nose laughter incited during its notorious Celebrity Roasts, which it founded decades before Comedy Central was ever an idea.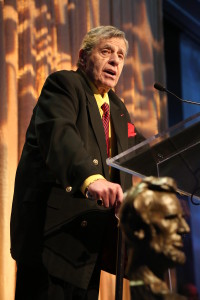 The club has been around for a very long time, (see Full History) and some of its members are indeed getting up there in age.  At a recent honorary dinner, comedian Jeffery Ross looked across the dais at Friars Jerry Lewis, Richard Belzer, Freddy Roman, and Stewie Stone and commented without apology that he had "seen younger faces on cash."
But under the spirited leadership of Executive Director Michael Gyure, the club is fast enlisting new ranks of talent, and their goals for the club have expanded beyond making people piss their pants laughing, and into the realm of legitimate philanthropic endeavors.
On a recent trip to Washington DC, The Friars Foundation– the perennially active charitable arm of club established in 1977– elevated its already impressive game in creating The Lincoln Awards, which honors the extraordinary individuals and companies committed to serving and supporting U.S. veterans and military families. The award was named after our 16th President, who issued a call for the care of the nation's veterans and their families during his second inaugural address 150 years ago. You might recognize the verbiage: "With malice toward none, with charity for all… let us strive on to finish the work we are in, to bind up the nation's wounds, to care for him who shall have borne the battle and for his widow and his orphan, to do all which may achieve and cherish a just and lasting peace among ourselves and with all nations."
The tone of award show was established early when Lieutenant Colonel Justin Constantine of the US Marine Corps captivated the audience with his epic saga of volunteering to return to Iraq in 2006, after being honorably discharged in 2004, and taking a bullet in the head by an enemy sniper. The shot obliterated his jaws and face, leaving him for dead in enemy territory, 7000 miles from home. But in a turn worthy of Hollywood's best war dramas, a young Navy Corpsman performed his first tracheotomy in a speeding armored personnel carrier, delivering Constantine to the operating table. Although the initial prognosis was "killed in action," Constantine miraculously survived. The bullet had somehow missed his brain.
A torturously long road to recovery began at Walter Reed, involving every possible facet of facial reconstruction imaginable, and teams of surgeons and therapists, physical, psychological speech, to bring Justin back from "poly-trauma" to full functionality. (Pictures available via google for those with an iron stomach.)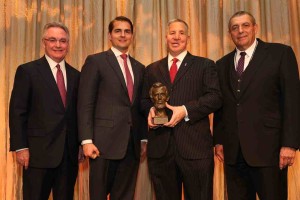 After making his against-all-odds recovery, Constantine began dedicating his life to raising funds for other veterans in distress.  It's a story of resilience unlike any I have ever witnessed, with the bone-chilling moral that we are all stronger than we think we are. His will to survive, and the help that he received at every challenging phase of his treatment, is a bellowing testament to the power of the human spirit.  The Lincoln Awards had barely begun, and I was already choking back tears.
The were some other honorees you may have heard of, like Bruce Springsteen, who's been jamming gratis for veterans for decades and has a powerfully generous charity to boot. Dean Kamen, inventor of the Segway, who has made major advances in bionic prosthetics for veteran amputees. Ken Fisher, who founded the Fisher House Foundation, which houses the families of hospitalized military personnel and veterans while they recover, and Wal-Mart, yes, that Wal-Mart, who has publicly committed to hiring 100,000 veterans by 2018. There were ten award categories in all and each recipient was as inspiring as the next.
The Friars Foundation produced the show at the Kennedy Center on January 7th, 2015 in front of 2000 plus veterans and friends, (it will be broadcast in May on PBS) with a stellar line-up of comedians and musicians.  NBC anchor Brian Williams hosted the night and talent included Gavin DeGraw, Nick Jonas, The Lone Bellow, and Aloe Blacc, comedians Rob Riggle and Whitney Cummings, appearances by veterans Harvey Keitel and Jerry Lewis, with honoree goose-bump inducing videos narrated by Alec Baldwin.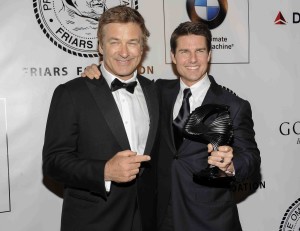 Friars proudly serving on the Lincoln Awards Advisory Board include Harry Belafonte, Jack Black, Tom Cruise, Allen Grubman, Larry King, Leslie Moonves, Don Rickles, Barbara Walters, Betty White, Elie Wiesel, Brian Williams and Bob Woodruff.  It's a lot of name dropping, but the cause makes it all the more pleasurable.  This was not your typical industry wank awards show. It was a group of respected entrepreneurs, newsmen and entertainers deciding to shining as bright a light as possible on a much needed, highly deserving group of caregivers.
Frank Sinatra, Abbot of the Friars Club from 1975 to 1996, (the Abbot is the head Friar), said of the club, "Their continuous good work for charity, rather than their many great triumphs on the stages of the world, is the true glory of this band of earthly angels known as the Friars."  It's a good feeling to know there are organizations out there who do more than just provide their members with a place to party. Events like The Lincoln Awards are going to leave much deeper memories.
WATCH THE LINCOLN AWARDS