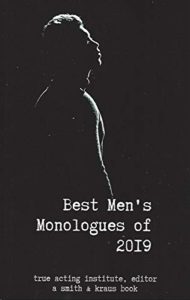 Two of my favorite monologues from Desperelics were published in this years 'Best' series from Smith & Kraus:
"Pushing Paper" and "Remember Everything."
Available now on Amazon.
__________________________
A delay at JFK Airport, due to a terrorist threat, is the occasion for six disparate travelers to reveal their philosophies, coping mechanisms, darkest secrets, and theories about extremists.  The final character, an Islamic American returning from Iraq, describes the radicalization he experienced and the car bombing he perpetrated.  This revelation sheds light on the previous five characters and the self-deception they embody.
The show uses humor, heightened language, and a layered original score and video projections to elevate the airport delay into an examination of national conscience and the process of justification that leads to violence on a personal level and ultimately on an international scale.
Characters include an immigrant cab driver who believes in the American dream of endlessly upward mobility, an art dealer whose exposure to an ancient subterranean fresco leads him to relive a gay bashing in which he abandoned his lover, a corporate litigator who manufactures evidence to combat the unfair awarding of government contracts, a sound engineer who "samples" music from a client to augment his own compositions, a Texan philosophy teacher who uses Lacanian analysis to explain terrorism and his own custody battle with his wife, and an Iraqi American who must face his conscience after driving a car bomb into a Sunni neighborhood.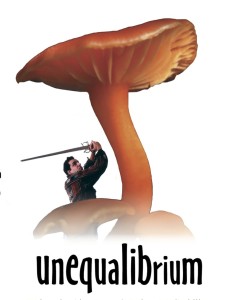 Unequalibrium recounts five hysterical lives bound for collision during one of New York City's nastiest snow storms.  Like the tempest that links them, the monologues escalate toward a unifying climax that is hilarious and horrifying.  A science teacher shaken by an impending sabbatical, a Greek plumber with a fail-safe Black-Jack system, a laid-off web-designer with a confrontational girlfriend, and a criminally minded defense attorney stumbling into a botched murder/robbery.
Off-balance in their own way, the lives exposed in unequalibrium come full circle in a single chance event.  At the storm's height, the straight-laced scientist witnesses the crisis that pierces each character's veil and instantly connects these four lives, forever.  Teetering on the brink of insanity, life itself is grasped the only way it should ever be: tightly and with both hands.
Unequalibrium was selected for Best New Playwrights , available at Samuel French, and nominated for a 2003 Dramalogue Award for Best One-Act Play.
Unequalibrium – published in New Playwrights: Best Plays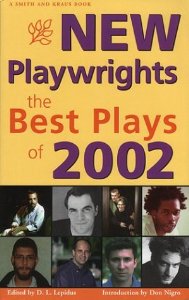 This book, the third in this series I have edited for Smith and Kraus, contains an eclectic mix of new writing for the stage. You will probably have heard of few, if any, of these plays and their authors. But don't let that deter you. Most people have only heard of the plays that have had major success on a tiny island on the northeast coast of the United States (you know the island); when in fact many of the most interesting plays come from elsewhere, and may or may not ever have a significant production on this aforementioned island, for one reason or another. – D.L. Lepidus
And in: The Best Men's Monologues for the 21st Century 
Covering the best of Broadway, Off-Broadway, regional, and experimental theatre since 2000, One on One challenges actors to explore the inner self, develop skill and artistry for auditions, and deliver a knockout onstage performance. These monologues – sometimes comic, sometimes serious, and often both – tackle issues ranging from race, class, gender, relationships and romance to coming of age, mortality, 9/11, and the Iraq war.
Heterosexuals follows three couples as they navigate romance in the Big Apple while managing an ever-increasing series of personal hurdles. Rhonda and Nick are old friends who always share the details of their romantic disasters. A new one is born when they decide to cross that boundary with the promise of not falling in love with eachother. Akey and Elia just can't seem to get dates with the opposite sex. But when Nick and Rhonda arrange a meeting, magical things unfold. Larry and Denny have been married ten years. Their love is deep. But when financial strains begin to crack their foundation they must fight to resist the temptations that offer each a relief from the pressure. Story-lines intersect in a comedic climax that will make anyone in a relationship squirm in their seat.
Mona – "What is friendship, when love's at stake?" Ever know somebody too nice? Lovable, but you just want to smack them? That's Bob (Adrian Martinez), witty and self-deprecating. Bob meets the right girl. Smart and beautiful. Her beauty turns out to be a problem, because now Bob, a social worker with a hefty physique, has to compete with Eric (Alex Lyras), a failed novelist who finds inspiration in Mona's youthful charm…